ex-rp.com:7777 | www.ex-rp.com

History
Explicit Roleplay is a heavy roleplaying community that has been around SAMP for almost a year now. Using a completely unique script with a wide array of features. The server has had it's struggles in the past but that has not demotivated the management team, they still ran and run the server as if nothing happened. The staff team in general are determined to keep the server running as healthy as possible due to past events. EX-RP as it currently stands is a healthy server with a well disiplined staff team which keeps the rulebreakers in line.
Script
Explicit Roleplay is the only server using the script it has, a not very well known script, however with a lot of features that can enhance your roleplay drastically.
ANTICHEAT
First of all, anticheat, we have a very advanced anticheat, stopping most cheats on samp, such as: airbreaking, weapon hacking, teleporting, vehicle tossing and much, much more. We have had trouble with hackers before and have always developed an anticheat to stop them from coming back and ruining the gameplay for the community. Tackling hackers is one of our biggest priorities on the server, so we are always developing new ways to stop them from getting into the server with such cheats.

STRENGTH SYSTEM
The strength system is admittedly an essential part of our script. You actually use the San Andreas Singleplayer working out methods to boost your strength within brawls. This will basically allow you to carry more in your inventory.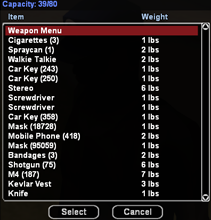 INVENTORY SYSTEM
In Explicit Roleplay everything you can acquire is an item, such as: tazers, weapons, phones, carkeys, food, etc. This brings our inventory system, the bigger the item the more it weighs and the more it weighs limits to what else you can carry.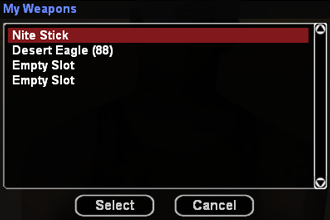 WEAPONS MENU
Our weapons menu is in the inventory system, when you equip a weapon it goes into your weapons menu, this makes it a lot easier to manage your weapons, and when you unequip a weapon, it will go back into your inventory.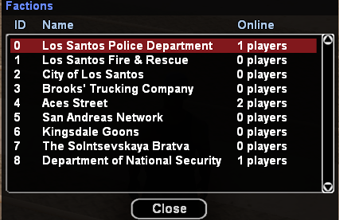 FACTIONS SYSTEM
Our factions system has multiple sections, mafias, gangs, law enforcement, news, medical and government. As for organised as well as unorganised in character groups, we allow players to build their own so-called factions and let them have the freedom of choice when it comes to what they want to roleplay as. We have both official and unofficial factions. However, only the official factions benefit from things such as being able to purchase gun packages and/or drug packages. It is up to the Head of Factions to decide who will get this authority. All new groups start out as unofficial and then can work their way up to an official status of their faction; you can read more about this on our forums. Street gangs can also tag walls with spraycans (obviously), administrators can set points where gangs can tag.

TUTORIAL SYSTEM
After you've answered a couple of questions regarding roleplay, you can choose if you want to spawn in the legal way, or the illegal way. If you choose the illegal way, you'll spawn on a boat, where you'll have to complete a mission(text will appear to support you) in order to spawn. Makes the tutorial more fun than it normally is.
https://www.youtube.com/watch?v=Q8glLGvkUZU
GARAGE SYSTEM
Our garage system is a core feature in our script, not just because it adds more value to houses and it's a place to store your cars, but it also adds more variety to roleplay and changes it up, even when running from cops - it's another place to hide, there's so much you can do with our garage system and we are still adding to it.
YOU CAN FIND VIDEOS OF OUR FEATURES HERE
Why join us?
As stated above, Explicit Roleplay has a very rare script and a very dedicated staff team, the server has been through good times and rough times, and the staff team have still stuck with the server, we have a very professional management team which keeps our admin and tester team in line, any issues that are found with the staff team should be taken to either of our managers for a swift and easy conclusion.
User created content
https://www.youtube.com/watch?v=iP5tjFfcZcs
https://www.youtube.com/watch?v=u_yNycqj-i0
https://www.youtube.com/watch?v=-DGlikBMfOc
https://www.youtube.com/watch?v=vki8M8NRRjQ
https://www.youtube.com/watch?v=9wqS_wHIP84
https://www.youtube.com/watch?v=AMutEfQIQHs
https://www.youtube.com/watch?v=sliMcCC8_fQ